Tasty Travels Meal Plan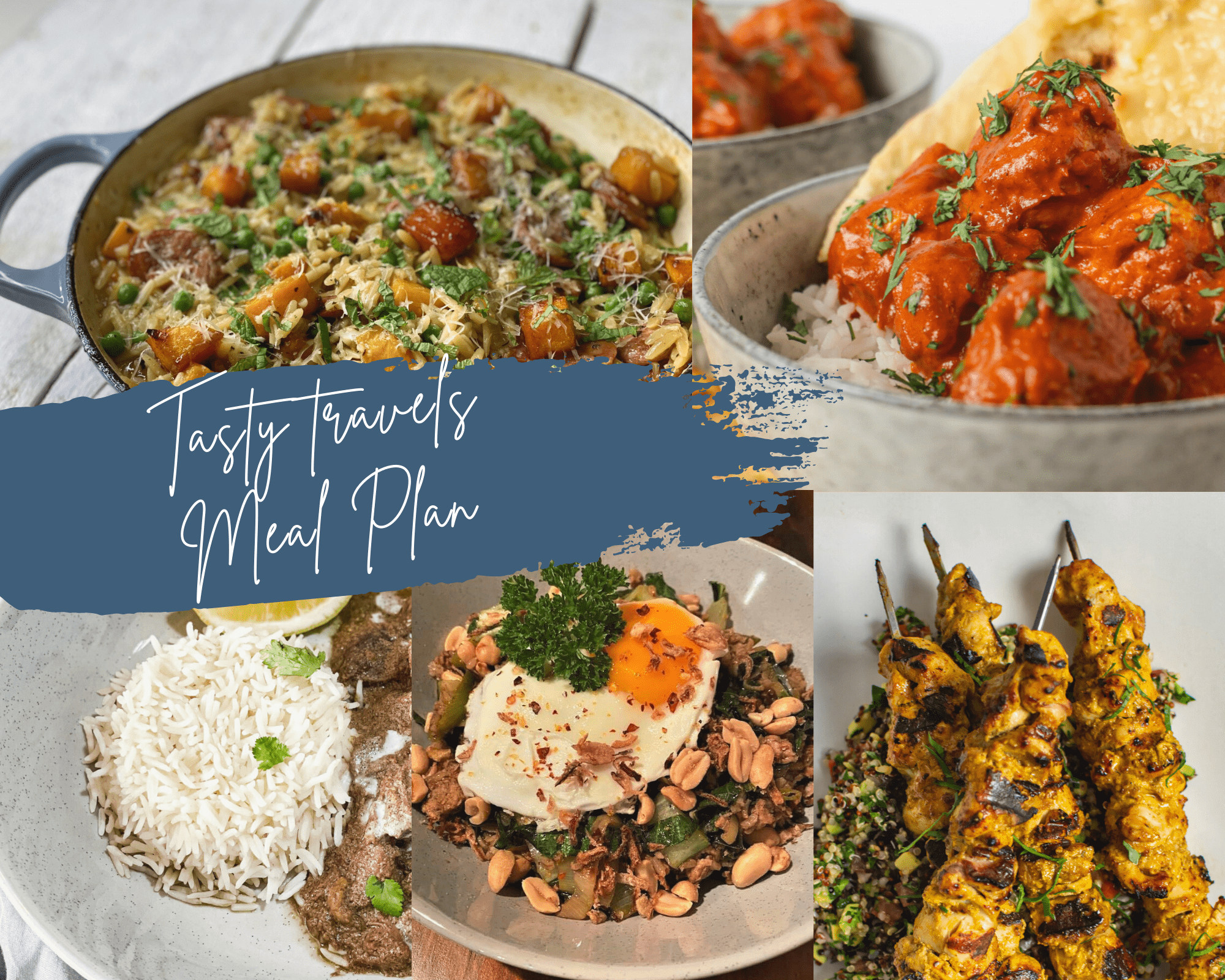 Six nights of a scrumptious array of flavour packed meals from around the world, including curry, risotto, nasi goreng, and pizza!
Monday: Jerk It Beef Curry
Tuesday: Butter Chicken Meatballs
Wednesday: Honey Roasted Pumpkin Orzo Risotto
Thursday: Nasi Goreng
Friday: Mo'rocckin skewers & tabbouleh
Saturday: Mexican Pizzas with Guacamole
Shopping List:
Pepper & Me: 
Jerk it, Man Grind, Tandoori paste, Chipotle Lime Salt, man rub, Italian stallion, Wok Sauce, Moroccan paste, whatevz salt, Mexellent paste
Pantry staples: 
basmati rice, tomato paste, 4 eggs, 1 cup breadcrumbs, 1 tbsp honey, Olive oil, 1 cup frozen peas, 1 cup brown rice, 5 spice, paprika, cumin, coriander, nutmeg, 1 handful roasted peanuts, 500 gm Plain flour, 4 gm Dried yeast, 
Dry Goods: 
400 ml Coconut Cream, Roti bread, chipotle sauce, 400 g passata, 1c orzo, 1 handful fried shallots, 1 cup quinoa, 280 gm Pizza base sauce, 400 gm tin Black Beans, Jalapenos
Chilled goods: 
Butter, 1 cup cream, 1 cup frozen peas, 50 g parmesan, 6 tbsp yoghurt, 500 gm Grated Mozzarella, Sour Cream
Meat: 
800 grams stewing beef, 800 g chicken mince, 2 chorizos, 500 grams pork or chicken mince, 8 boneless chicken thighs
Vegetables: 
1 kaffir lime leaf, coriander, lime wedges, 3 onions, 1/4 pumpkin, 5 cloves garlic, 1 lemon, 1/4 cabbage, 1 leek, 1 Tbsp crushed ginger, 3 avocado, 4 tomatoes, 2 red onions, 120 g chopped parsley, 25 g chopped mint, 
Monday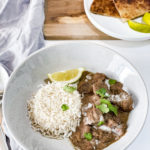 Jerk It Beef Curry
This fragrant beef curry is the ultimate winter comfort food. Full of flavour with a hint of lime to bring the fresh vibes.
Keyword:
Beef, curry, Easy, Easy Dinner, jerk it, slow cooked beef, Slow Cooker, winter, winter warmer
Ingredients
Curry
800

grams

stewing beef, diced in to 2cm cubes

(I buy it pre-cut from the butcher to save time)

2

tbsp

Jerk It seasoning

400

ml

Coconut Cream

(my favourite are Kara or Fia Fia brands)

1

kaffir lime leaf

(I use fresh from the fruit and vege section at the supermarket)

Man Grind

(to taste)
To Serve
2

cups

cooked basmati rice

fresh coriander

Lime wedges

Roti bread
Instructions
Put your diced beef into the slow cooker and spread it out into a single layer if your slow cooker allows. Sprinkle over the Jerk It seasoning and a good amount of Man Grind. Stir to cover all the meat in the seasonings.

Pour in your coconut cream and give it another good stir.

Cook on low for 8 hours or high for 5 hours.

Serve over basmati rice with a garnish of fresh coriander and a side of roti bread.

I also served steamed green beans with ours which would actually be beautiful stirred through in the slow cooker 5-10 mins before serving.
Tuesday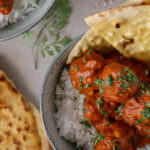 Butter Chicken Meatballs
The kids will LOVE this mash-up meal! Creamy curry + meatballs = family favourite!
Keyword:
Butter Chicken, curry, Meatballs
Ingredients
For the sauce:
2

onions

(finely diced)

1-2

Tbsp

butter (or coconut oil)

100

g

Tandoori Paste

1

tsp

Chipotle Lime Salt

2

Tbsp

tomato paste

1

Tbsp

chipotle sauce

400

g

passata

1

cup

cream (or coconut cream)

2

tsp

sugar
Instructions
First make the meatballs:
Preheat your oven to 180°C

In a large bowl, mix the chicken mince, egg, breadcrumbs and Chipotle Lime Salt. Shape into meatballs (about 1 Tbsp scoop per meatball). Place on a tray with parchment paper.

Note: I like to have a small bowl of oil to the side. I keep my hands well oiled when shaping my meatballs. This helps the mixture to not get stuck to your hands but also coats each meatball in oil. This way, you don't need to add oil to the oven tray.

Once all of your meatballs are formed, cook in an oven at 180 degrees for 15-20 minutes, turning half way.
Butter Chicken sauce:
In a frying pan, cook the diced onions in the butter (or coconut oil), until translucent. Add in your 100g of Tandoori paste and cook off for a minute.

On a medium heat, add the tomato passata, puree, sugar, chipotle sauce and a grind of Chipotle Lime salt. Once the mixture starts to simmer, add the cream. Allow butter chicken mixture to simmer while meatballs finish cooking.

Once your meatballs are cooked, add to the butter chicken sauce. Cook some rice and serve your butter chicken meatballs on the rice with a sprinkle of coriander to garnish.
Wednesday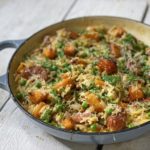 Honey Roasted Pumpkin Orzo Risotto
Ingredients
2

tbsp

olive oil

1

tbsp

honey

1

heaped tsp

Man Rub

1/4

pumpkin, peeled and diced

2

chorizo (optional - see notes)

1

onion

3

cloves

garlic, crushed

1

cup

Orzo

1

tbsp

Italian Stallion

1

cup

frozen peas

1

tbsp

butter

4

cups

chicken stock or water

1/2

lemon (optional)

50

g

parmesan, finely grated
Instructions
Preheat oven to 180C

Whisk together oil, honey and Man Rub

Tossed diced pumpkin in the honey mix.

Spread evenly on a lined baking tray, bake for 15 minutes or until tender and lightly caramelized

While the pumpkin is roasting saute diced onion, garlic and sliced chorizo in butter

Stir through orzo and cook off for a minute

Add the stock or water and bring to a simmer. Reduce heat to low and simmer for 18 minutes or until the orzo is al dente and most of the stock has absorbed. Stir occasionally through this process. If needed add additional 1/2 cup of water

Add the pumpkin to the orzo and stir through

Add frozen peas and stir well. Cook for a further minute or two

Add parmesan an addition tablespoon of butter if you like for a nice velvety risotto. Stir well

Given the pumpkin is quite sweet you can season with the juice of half a lemon to knock this back a bit. I recommend tasting and seeing if you think it needs it. Alternatively you can serve with some crumbled feta. The smokey chorizo helps to balance the sweet pumpkin
Recipe Notes
For a vegetarian option omit the chorizo. You could add an additional vegetable such as cauliflower. If leaving the chorizo out be sure to include the lemon juice to balance it out 
Thursday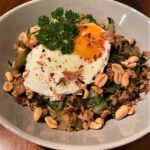 Nasi Goreng
A Pepper and Me twist on Indonesian fried rice that the whole family can enjoy! Easy to adapt to vegetarian as well.
Ingredients
1

tbsp

rice bran oil

1

cup

brown rice

cooked

500

grams

pork or chicken mince

(omit to make vegetarian)

1/4

cabbage

thinly sliced

1

leek

thinly sliced

1

Tbsp

crushed garlic

1

Tbsp

crushed ginger

1

tsp of each of

5 spice, paprika, cumin, coriander

1/2

tsp

nutmeg

1/3

bottle

Rock Out With Your Wok Out

1/4

cup

water or vegetable stock
To serve (all optional but delicious!)
3

fried eggs

3

lime wedges

1

handful

roasted peanuts

1

handful

fried shallots
Instructions
Soften leek in oil over a medium heat, then remove from pan

Cook mince over a medium heat until browned and cooked through

Add your rice, vegetables, spices, sauces, and water/stock. Cook until vegetables are soft and the rice is heated through

Top with desired toppings - enjoy!
Friday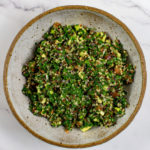 Mo'rocckin skewers & tabbouleh
A delish BBQ feast for all the family!
Keyword:
BBQ, Chicken Skewers, Mo'rocckin Paste, Tabbouleh
Ingredients
Skewers
8

boneless chicken thighs

6

tbsp

yoghurt

heaped spoons

6

tbsp

mo'rocckin paste

whatevz salt
Tabbouleh
1

cup

quinoa

1

avocado

diced

2

tomatoes

diced

1/2

red onion

diced

4

tbsp

olive oil

120

g

chopped parsley

25

g

chopped mint

whatevz salt
Instructions
Skewers
Mix yoghurt, salt & mo'rocckin paste together and set aside in a large mixing bowl

Cut chicken thighs into 1 inch cubes

Marinade chicken in yoghurt mix for minimum 30 minutes or overnight if possible

Skewer chicken, packing it tightly and BBQ @ 200c for approx 10 minutes
Tabbouleh
Cook quinoa according to packet (typically 10-15 minutes)

Chop all ingredients and combine together - this can be made in advance if necessary
Recipe Notes
Essential Tools
skewers
bbq
chopping board
chef knives
mixing bowl x 2
saucepan
Tips/Tricks
the more you leave the chicken marinate in the yoghurt the moister/juicier it will become.  I did mine in the morning and cooked it 8hrs later
tabbouleh can be made in advance and if you make a little extra it's a great work lunch the next day!
try cut the chicken into similar sized pieces for even cooking time
don't have a BBQ then you can use a grill pan to get the char on the outside and then finish in the oven for 6-8 minutes
Saturday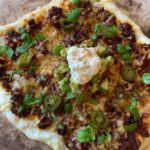 Mexican Pizzas with Guacamole
Course:
Dinner, Entrée, lunch, Main, Main Course
Cuisine:
American, Italian, Mexican, New Zealand, NZ
Keyword:
Mexcellent Paste, Mexellent, mexican, Pizza, Vegetarian
Ingredients
Pizza Base
500

gm

Plain flour

350

ml

Water

5

gm

Man Grind

4

gm

Dried yeast

1

tbsp

Olive Oil
Pizza Topping
1

Red Onion

1

tbsp

Mexcellent Paste

280

gm

Pizza base sauce

400

gm tin

Black Beans

500

gm

Grated Mozzarella

2

Avocados

1

tsp

Chipotle & Lime Salt

1

tsp

Pepper

1

Lime

2

Tomatos

Sour Cream

Jalapenos

Fresh Coriander
Instructions
Pizza Base
In your free standing mixing bowl pour lukewarm Water with Man Grind, mix in a small handful of flour to start a batter, mix in the yeast & leave for 2 mins.

Add the remaining four & start your mixer with the dough hook attachment, gradually up the speed as the flour gets mixed in, leave for 10 mins till smooth & elastic.

Place dough in a floured bowl & leave for 1 hour or doubled in size - covered with a damp tea towel.

Knock our the air & roll into a sausage, divide dough into 4 equal balls, roll & put on an olive oil covered baking tray. Cover with cling film & the tea towel & allow to rise for another hour.
Pizza Topping
Dice the Red Onion & sautée in a pan with some oil along with the Mexcellent Paste, once the Onions are soft add the pizza base sauce & the Black Beans & mix to combine.

To make the Guacamole cut the Avocado, Tomato & any off cuts of Red Onion into small cubes, juice a Lime & mix through along with Chipotle & Lime Salt.
Assembling
Preheat oven to 220 degrees, place a pizza stone or a flat baking tray in the oven to heat up. Once up to temperature put your stretched out pizza dough (I did this by hand for a more authentic looking shape) on the tray.

Spread the bean base sauce over the pizza & top with Mozzarella Cheese. Cook for 10mins or till the base is cooked / crunchy. Top with Guacamole, Sour Cream, Jalapeños & fresh Coriander to your liking.

Continue till all your pizza bases are made & cooked.
Recipe Notes
This is a vegetarian pizza although you could add mince or shredded chicken for a meaty version.