A nice mix Meal Plan!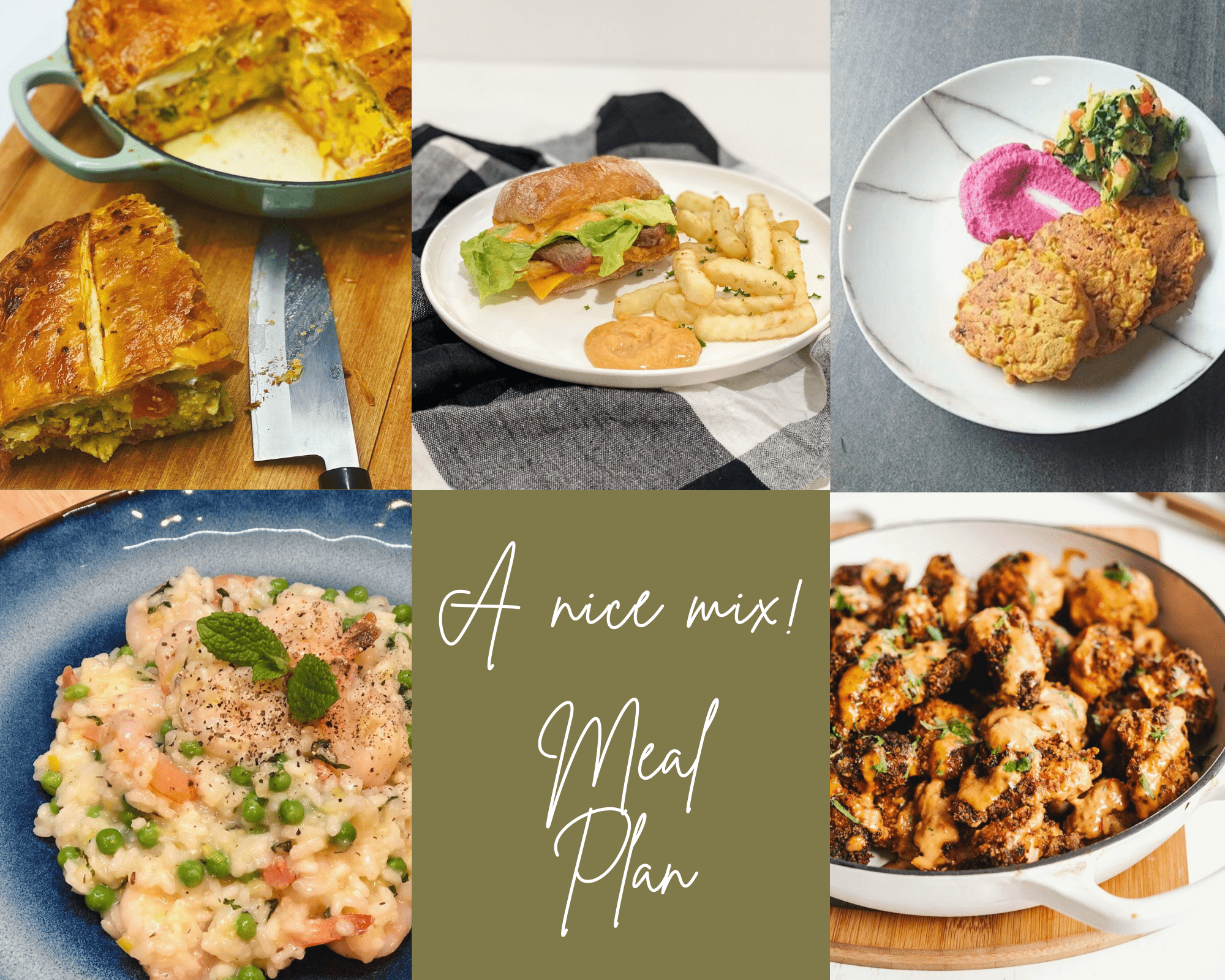 Monday: Bacon & Egg Pie
Tuesday:  Bang Bang Chicken
Wednesday: Man Rub Steak Sandwiches
Thursday: Mexican Corn Fritters
Friday: Pea & Mint Risotto with Prawns
Meal Plan
Shopping List:
Pepper & Me: Man Grind, Man Rub, Mexcellent Paste, Italian Stallion, Chipotle & Lime Salt, Aioli, Wok Sauce, Ding Dong, Whatevs Salt
Pantry staples: Olive oil, Veg. stock, Eggs x 17, Butter, Honey, Flour, Baking Powder, Breadcrumbs, Peanuts, Canola Oil, Sweet Chili Sauce, Dijon Mustard.
Dry Goods: 6 Ciabatta buns,  1.5 c Arborio rice, 1.5 c long grain rice, 1 tin creamed corn, 1/3 c white wine (optional)
Chilled goods: Parmesan cheese 100g, frozen peas 1 c, 1.5 c frozen corn kernel's, 200g sour cream, 5 sheets puff pastry, 1/2 c milk, 1 c cheese, butter, 500g streaky bacon, 600g Chicken breast, 400g raw prawns, 600g Scotch fillet steak or similar
Vegetables:  Onions x 1, zucchini x 1, garlic, coriander, mint, leeks x 2, lemon x 2, iceberg lettuce x 1, tomatoes x 3, coleslaw bag
Monday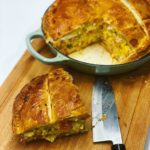 Bacon and Egg Pie
The most delicious bacon and egg pie I've ever tasted! a little extra nutrients suck in here too.
This cooks up beautifully in the Kitco Shallow casserole.
Course:
Brunch, Dinner, lunch
Ingredients
5

Sheets

Puff pastry

14

Eggs

1

cup

Tasty cheese

Grated

2

Courgettes

3

Tomatoes

1

Cup

Leek

chopped

1/3

cup

Cream

2

tsp

Man grind

ground

2

tsp

Italian Stallion

500

gm

Streaky bacon

30

gm

Butter
Instructions
Finely dice your leeks, and sweat off in a sauce pan with the butter. Chop your bacon strips into 1cm pieces and add these to the leeks once they have softened.

Cook for a few minutes until the bacon is nicely cooked. Pop these aside in a bowl. Grate the courgettes and cook these off in the same pan for a few minutes.

Add the cooked courgettes into a bowl with 8 of the eggs, the cream, Man grind and Italian stallion. Whisk this together.

Grease your shallow casserole (or any ceramic dish, 20 x 15cm ish size) with oil, then line the bottom with a thin layer of the flaky puff pastry.

Quarter your tomatoes, and flick out the wet middle seeded part, and discard or freeze for another recipe. Dice the tomato flesh and add to bacon and leek.

Scatter half of your bacon/leek/omato mix across the bottom of the dish. Follow by half of the cheese, and half of the scrambled egg mix.

Crack your remaining six eggs, across the top.

Repeat another layer of bacon mix/ cheese/ and the rest of the scrambled egg on top.

Top with another layer of pastry., if using the round shallow casserole, I did one full sheet, and one sheet cut into half to cover the edges. Trim the edge with a knife. Seal the pastry with the bottom lined layer, and then crimp with a fork.

Brush the top of the pastry with egg glaze (I used the left over scrambled egg mix in the bowl, you only need a tiny bit) and pop a couple of knife holes in the middle.

Bake at 180 - 190 degrees, for 55 minutes on the bottom rack of your oven. If the top gets too brown before the pie is cooked, cover with foil.

I did the first 20 minutes on 'pizza bake' function, as this cooks from the booth and makes sure that bottom pastry is cooked.
Tuesday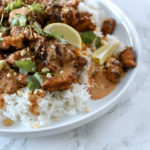 Bang Bang Chicken
A super easy family friendly version of Bang Bang Chicken.
Keyword:
Aioli, Bang Bang Chicken, Chicken, Ding Dong, Dinner, WOk sauce
Ingredients
SAUCE
2

tablespoons

Aioli grail

4

tablespoons

sour cream

1

teaspoon

Dijon mustard

1/3

cup

Thai sweet chili sauce

1

tablespoon

wok sauce

1

teaspoon

Ding Dong

1

teaspoon

honey
CHICKEN
600

grams

boneless skinless chicken breasts

1

cup

breadcrumbs

½

cup

flour
TO SERVE
1 ½

cups

medium grain rice

uncooked

Coleslaw

supermarket packet (without dressing)

2

tablespoons

peanuts

chopped

1

lemon

Coriander to serve
Instructions
In a medium bowl or in a blender mix all the sauce ingredients together until smooth.

Cut the chicken into bite size pieces, add ¼ cup of the sauce into a bowl and stir through the chicken. Refrigerate the chicken while you prepare the rest of the food.

In a large shallow dish mix the breadcrumbs and flour together, pop aside.

Start cooking the rice to the packet instructions.

Heat a fry pan with around 1 cm of canola oil.

Start dipping the marinated chicken into the bread crumbs completely coating the chicken.

Fry the chicken in batches until golden, transfer to a plate lined with paper towels.

Once the rice and chicken have cooked. Serve the rice up on a platter, then chicken and drizzle with the remaining sauce. I like to save a little sauce to stir into my coleslaw.

Sprinkle the chicken with peanuts, coriander and a squeeze of lemon.

Serve with coleslaw.
Recipe Notes
Add more Ding dong sauce for a spicier hit.
Wednesday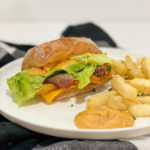 MAN RUB STEAK SANDWICHES
Crispy onion rings, man rub aioli with steak and cheese sandwiched in a ciabatta bun, so lovely for a weekend lunch or dinner!
Keyword:
Dinner, sandwich, steak
Ingredients
ONION RINGS
500

ml

Canola oil

for deep frying

⅔

cup

plain flour

1

brown onion

sliced

1

egg

½

cup

milk
SANDWICH
600

grams

scotch filet steak

6

ciabatta buns

Pepper and Me Herby Mustard butter

½

cup

Pepper and Me Aioli

1

teaspoon

Pepper and Me man rub

6

slices

cheddar cheese slices

I used dairy works

Iceberg lettuce

shredded
Instructions
To prepare the onion rings, combine the flour and Man Grind or chipotle and lime salt (I personally prefer the chipotle and lime salt) in a bowl.

Heat the oil in a deep pot.

Line a baking rack with a few layers of paper towels.

Slice the onion into rings at least 5mm thick and dip into the flour mixture, pop aside on a large plate.

Mix the egg and milk into the remaining flour mixture until it forms a smooth batter.

Dip the floured onion rings into the batter one at a time and gently place into the oil with tongs.

Once the onion ring starts turning golden, gently turn with tongs.

Cook the rings in small batches about 6-8 rings at a time, being careful not to over crowd the pot.

They will be ready once floating on the surface and nice and golden in colour on both sides.

Remove with a slotted spoon draining off excess oil and place on the paper towel lined rack.

Sprinkle with extra chipotle and lime salt.

Mix the aioli and man rub together in a small bowl.

Preheat the oven on grill at 200 degrees.

Cut the buns in half and place the cut side up on a baking tray, spread with herby mustard butter and place a slice of cheese on each base bun half.

Grill until golden and the cheese has melted.

Slice the steak into strips and pan fry quickly on each side in a little herby mustard butter.

Layer the steak, onion rings and lettuce onto the cheese.

Generously spread the man rub aioli onto the other bun half and sandwich together.
Recipe Notes
Serve with fries and man rub aioli.
Thursday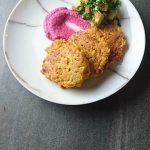 Mexican Corn Fritters
A Mexican twist on a classic kiwi dish.
Ingredients
1.5

cup

Frozen corn

defrosted

1

tin

Creamed Corn

2

whole

Eggs

1

Courgette

grated

2

TBL

Powdered parmesan

1

TBL

Mexellent Paste

3/4

cup

Self Raising Flour

1

tsp

Chipotle and Lime salt

ground
Instructions
Mix the tin of creamed corn with the corn kernels (drained). Add the parmesan, Mexcellent paste, chipotle seasoning and eggs.

Squeeze the liquid out of the grated courgette with a paper bowl. Stir the courgette and flour through the corn mixture.

Heat a frypan on medium high heat, with 3 TBL of cooking oil. Fry off the fritters in batches of 4, about a heaped tablespoon of mixture per fritter.

Lay on an oven tray and finish in the oven at 180 degrees for about 8 minutes, until cooked through inside. Serve with avocado salsa or poached eggs for brunch, yum!
Friday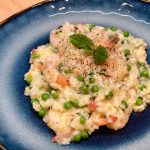 Pea and Mint Risotto with Prawns
Ingredients
1.5

cup

aborio rice

400

g

raw prawns

defrost frozen prawns

40

g

butter

1

tsp

Italian Stallion

1

leek, finely sliced

1/3

cup

white wine (optional)

4

cup

hot chicken or vegetable stock

1

cup

baby peas

1/2

cup

fresh mint, chopped

50

g

parmesan, grated

zest of half a lemon

Whatevz Mum
Instructions
Saute leeks in half the butter, over a medium heat for abot 2-3 minutes until softened (not brown). Add Italian Stallion

Add saute and toast off for another minute

Add wine and stir while the rice absorbs the wine massaging the starch out of the rice. You don't have to stir constantly, 3-4 times a minute is enough. If you are not using wine just start this process with the stock

Continue the previous step with the stock, adding it ladle by ladle at a time. When the previous ladle of stock has been absorbed add another and continue to stir

In a separate fry pan fry off the prawns in a little olive oil till lightly caramelised and cooked

Once all the stock is absorbed check to see if the rice is almost cooked and tender. If it isn't you can add additional water until cooked. It may take an additional 1/2 cup.

Season generously with Whatevz Mum, the fennel flavour is a perfect match

Add in frozen peas, chopped mint and the remaining butter, stir vigorously with a wooden spoon to emulsify the butter into the rice

Stir through the prawns and serve. Risotto should still be a little bit fluid/wet not gluggy and solid but play around with this to get the consistency you prefer
Recipe Notes
For a vegetarian option leave out the prawns and use vegetable stock